Hearing Aids Linked to Fewer Hospital Visits
Hearing aids can be expensive, and they're rarely covered by insurance. According to recent research, though, they may pay for themselves in the long run. A new study has found that hearing aids may potentially reduce an older adult's trips to the hospital or emergency room.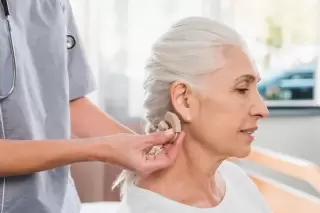 Posted by Casandra Lee in Hearing Aid Lifestyle
In a study published in Jama Otolaryngology-Head & Neck Surgery, researchers from the University of Michigan analyzed self-reported data from 1,336 adults between the ages of 65 and 85 with severe hearing loss. Interestingly, even though they all struggled with difficulty hearing, only 45 percent of those participating in the study used a hearing aid. That rate drops further for people who are African-American or Hispanic, have low incomes or less education, or who live in the Southern States.
Factoring out these differences, researchers found that participants with a hearing aid were less likely to have visited a hospital or ER over the past year. The difference was not huge- only 2 percentage points- but that's enough to make a difference statistically. The divergence was larger when it came to office-based physician visits. Those with hearing aids had more of these visits than those without hearing aids. In fact, they were 4 percentage points more likely to have visited a doctor's office.
When it came to self-reported health conditions, those with hearing aids were less likely to have illnesses like high blood pressure and diabetes. This may be because they were using costlier preventive health services. On the other hand, it could be that individuals who use hearing aids are able to lead more active, healthier lives.
This new information is particularly interesting given that traditional Medicare doesn't cover hearing aids at all. Medicare Advantage plans sometimes cover them but ask members to share a large portion of the cost. For the lowest-income patients, Medicaid coverage is offered for hearing aids in only about half of states. Given that hearing loss is a very common condition among people over 65, the idea that hearing aids may decrease hospital visits is something to consider in terms of the insurance. The researchers hope their study will inform the debate over the expansion of coverage.
In the meantime, the researchers from the UM study believe further research is warranted. They are currently studying five years' worth of private insurance data from the institute for healthcare policy and innovation (IHPI), as well as anonymous data from patients who have received treatment at Michigan Medicine. They hope to learn, by studying documented costs and the use of health care across several years, they hope to determine whether hearing aids are cost-effective.
At Elite Hearing Centers of America, we pride ourselves on providing the highest quality service, industry-leading products, and a no-excuses 100% satisfaction guarantee. Founded by some of the industry's most experienced private practice owners in the United States, we offer professional, compassionate care, providing high-quality hearing aids at affordable prices. Call us at 855-432-7354 or schedule a free hearing test and comprehensive hearing evaluation today.