Find a Hearing Center Near You
If you are ready to hear crystal clear again, call one of our convenient, nationwide locations to schedule your next appointment and get started!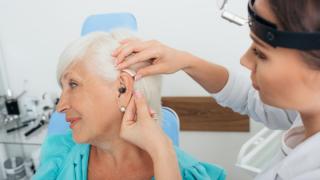 The Elite Hearing Centers of America are expanding and now have offices throughout:
South Carolina
North Carolina
Georgia
Wisconsin
Florida
Put Your Hearing in the Hands of Trusted Experts
Hearing is essential to everyday life. We converse with friends and family. We listen to the laughter of loved ones. We take in all the sweet sounds of the world around us through our senses and live life to the fullest. If your hearing is suffering, you are missing out on those experiences. The Elite Hearing Centers of America have the solutions you need at one of our 50 locations nationwide! We offer the top hearing aids from the best brands, a full battery of no-cost, no-obligation hearing tests, complete hearing aid repairs and maintenance, hearing aid programming and more. Our practice makes patient care our top priority with every visit and goes beyond the service standards to ensure you can hear clearly once again. We invite you to contact one of our office locations today and discover a premier class of hearing assistance that will serve you for life.
A Full Range of Top Brand Hearing Aids
Today's modern hearing aids have better capabilities than ever before. They seamlessly integrate with advanced technology and allow for more customization options based on your needs. At the Elite Hearing Centers of America, we stay up-to-date on all the best hearing aid brands and offer you exceptional choice and selection that you will find nowhere else. Our complete array of top-name hearing aids includes:
Phonak Hearing Aids
Signia Hearing Aids
Widex
ReSound
Starkey Hearing Technologies
Unitron
Star
Rexton
Audifon
Audina
Get Free Hearing Tests & Services
In addition to our full line of premier hearing aid products, the Elite Hearing Centers of America offers all our patients expert hearing testing and services at NO CHARGE. We focus on helping people to improve their hearing to near-perfect again with no-cost, no-obligation assistance that does more. Working with us, you are entitled to a no-excuse, 100% satisfaction guarantee within the first 30-Days ​for everything we do or you will receive your full money back! Some of our top service offers include:
FREE Hearing Tests
FREE Hearing Consultations
FREE Insurance Processing
FREE 30-Day Trial Period
And more
Superior Hearing Aid Repairs & Maintenance
Do you have a defective or broken hearing aid? The Elite Hearing Centers of America can fix it! We offer fast, efficient, in-office repair that will solve any mechanical issues and let you hear clearly. Maybe you just need some fine-tuning for your hearing aid? Our practice provides free hearing aid programming and adjustments for all our patients as well! However, all of our exceptional repair and programming work means nothing if the device is still going to break down after moderate usage. That is why the Elite Hearing Centers of America gives you FREE hearing aid maintenance as well to prolong the life of your device. Contact us today to schedule your appointment.

https://www.youtube.com/watch?v=LlBoXXCt7dI&feature=emb_logo

Contact The Elite Hearing Centers of America
You need your hearing to experience everything life has to offer. When you put your faith in the Elite Hearing Centers of America, you get the highest quality service, industry-leading products, and professional expertise you want to make near-perfect hearing your reality. Contact us today to schedule your remote or CDC- and COVID-19-compliant in-person appointment and enhance your hearing for life.

Store Locator