How to Determine Which Type of Hearing Aid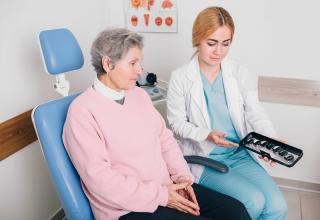 The Best Hearing Aids Fitted by the Best Audiologists
Loss of hearing can be distressing, but there are things you can do about it. At
Elite Hearing Centers of America
, we offer a wide array of the most technologically advanced hearing aids from the world's leading manufacturers. But it's not enough to know that you need a hearing aid. How do you determine which type of
hearing aid
would be best for you? It's a complex question, and the answer will depend on a variety of factors. Learn about the different types of hearing loss, the kinds of hearing aids that are available to you, and how to choose the best one for your hearing needs. To speak directly with an experienced audiologist,
contact us
at Elite Hearing Centers of America.
Meet With an Audiologist
The process of getting the right hearing aid for your needs starts with scheduling an appointment with
an audiologist
. Ears are like fingerprints: no two are ever the same. There are many different kinds of hearing aids that can be adjusted to your specific hearing needs, but to determine what those needs are, you have to have a hearing test.
You should always make sure that your audiologist uses Real Ear Measures for hearing tests, as it is the industry standard for determining the prescriptive targets for soft, medium, and loud noises. It is the most effective way to tune your hearing aid perfectly to your ear. Hearing aids can be tuned to be more or less sensitive. They can also be tuned to be more receptive to low or high frequency sounds, depending on the condition of your ear.
Determine What Is Important to You
Once you have met with an audiologist for a hearing test, you will likely be presented with a variety of options. This is when you need to start thinking about what's important to you. Here are some questions to consider:
Do I Care About It Being Noticeable? - Some receiver-in-canal and nano hearing aids are barely noticeable. However, they may cost more.
Will I Be Able to Adjust It? - Smaller hearing aids may be harder to adjust for people with dexterity issues.
Do I Want Manual Adjustability? - Some hearing aids automatically adjust to noisy and quiet environments, while some can be controlled manually or through an app.
Do I Want a Rechargeable Battery? - You can get certain hearing aids with a rechargeable lithium-ion battery. Some prefer a non-rechargeable battery due to size and power restraints.
Do I Want Advanced Features? - You can get Bluetooth hearing aids that allow you to stream music and phone calls directly to the device.
Your Type of Hearing Loss
The severity of your hearing loss will narrow down your choices. That's because the more severe the condition, the more powerful your hearing aid will need to be. It's best to discuss these criteria with your audiologist.
Contact Elite Hearing Centers of America
You can always count on Elite Hearing Centers of America for accurate testing and attentive help.
Schedule an appointment
and get the perfect hearing aid today!