Hearing Aid Cost & Affordability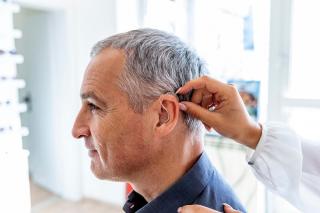 Hearing loss affects a large number of people here in the U.S. In fact, it's estimated that 48 million Americans have some degree of hearing loss, but only one in five are actually doing something about it by wearing hearing aids. One of the reasons for this is the cost of hearing aids. Indeed, the price of quality hearing aids can be anywhere from $1000 to $4000!
How to Pay for Hearing Aids
There are several different methods you can use to help offset the cost of hearing aids:
Health Insurance
While coverages can differ from one company to another, your health insurance carrier may be able to help you with the cost of hearing aids. In lieu of coverage for these devices, some plans make certain discounts available to their members.
Health Savings Accounts (HSA)
Many employers offer employees the option of setting up an HSA. This is a type of savings account that allows you to set aside money on a pre-tax basis to pay for qualified medical expenses, including hearing aids.
Medicare and Medicaid
Medicare doesn't usually pay for hearing aids, but some of the Medicare Advantage Plans do offer limited coverage.
Medicaid coverage for adult hearing aids varies by state and eligibility is subject to change. Medicaid will however usually pay for the cost of hearing aids for children.
Workmen's Compensation
If your hearing was damaged by noise at work, you may be entitled to receive workmen's compensation benefits to help pay for the hearing aids.
Social Security
No matter the cause, if your hearing loss affects your ability to work, you may be eligible for assistance from the Social Security Trust Fund.
Federal Employee Health Plans
Like other health insurance, some of these plans provide coverage for hearing aids.
Discounts
Membership in some organizations may qualify you for a discount. Examples are some state or municipality employees, AARP, AAA, and your local fraternal or union organization.
Charitable Organizations
There are many charitable organizations that offer assistance to hearing impaired individuals by providing them with hearing aids at discounted prices, or in some cases, completely free of charge. Most of these organizations require recipients to demonstrate a financial hardship.
Where to Buy Hearing Aids
At
Elite Hearing Centers of America
, we focus on what matters most to our patients, and we know that cost is a big factor. That's why we carry all of the leading brands of hearing aids at some of the most affordable prices. Using the most modern technology in testing and programming, our Hearing Aid Specialists and Doctors of Audiology are professionally trained to find the hearing aid solution that's right for you. We pride ourselves in providing outstanding customer service along with a 30 day free trial of any of our hearing aids. Add to that our 100% NO EXCUSE guarantee on all of our products.
For additional information about Elite Hearing Centers of America and the services we offer, visit our
website
or give us a call at 855-678-3234. We look forward to serving you!